Private Event Rental
Regular price

Sale price

$425.00
We'd love to host your private event! Private event rentals are 3 hours long. You and your guests get exclusive access to our entire space.
Click "Select Time" below to complete your reservation. 👇

We'll follow up in an email to schedule an event consultation and nail down all the special details about your big day. 
Keep scrolling down for answers to frequently asked questions about private event rentals. 😉
NOTE: It's essential to select a date on the calendar prior to completing your purchase so your party is available!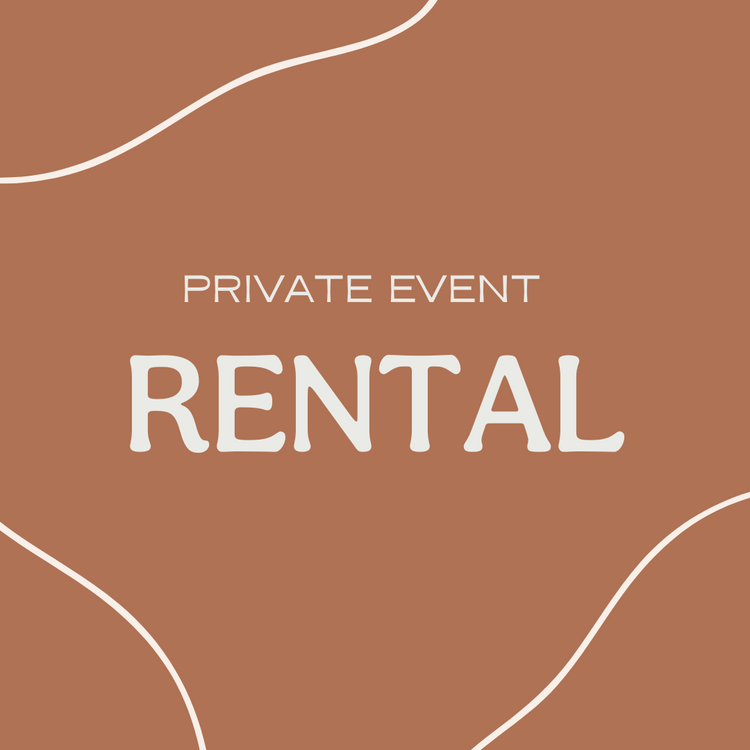 What is the capacity?

We're still getting a feel for the space. To kick things off, our capacity for private event rentals is 20 children & 35 adults. As we get comfy in our space and get more feedback from guests, we may increase or decrease the capacity.
Can I bring my own food?

The short answer is no. We prefer that you'd order off of our menu. We have a long (& growing!) list of food and beverage options here. If you have something specific in mind, let us know and we'll do our best to accomodate.

Our list includes some delicious cake options. But we understand if you'd prefer to bring your own dessert.
Can I decorate the space?

Yes, you'll have full access to our cafe and play space to decorate and set up cake, presents, etc.
Can we do a gift opening?

We suggest using your private event rental time to play in the space, and do gift opening after your party in the comfort of your home. This helps to keep gifted toys separate from our play space toys. Additionally, we've found that gift opening can be really overwhelming for little kiddos and is often better without a crowd.
Can I bring my own drinks?

Again, the short answer is no. We have a robust list of beverage options, including a complete espress menu, beer, wine, children's drinks, etc. See the full list here.

If you have something specific in mind, please reach out and we'll do our best to accomodate.
Is the cafe open to the public during my private rental?

Nope! The entire space is dedicated to you and your guests, this includes the cafe and retail space.
Can we rearrange furniture?

Yes! The majority of the pieces in our play space and cafe (with the exception of our climber and some larger equipment) are designed to be movable. We're happy to shift the layout around to meet your needs. We can also add tables and chairs.
What do I get with my private event rental?

We're happy you asked. 🙂 You get...

Complete, exclusive access to our cafe, open play and retail spaces
A custom message written on our chalkboard
A custom greeting displayed on our Frame TV, or the option to play a movie, sports game, show, etc.
A 15-minute consultation to nail down details for your events
30-min prep window before your rental & 30-min clean-up window following your event
Dibs on the playlist. Send us your music selection and we'll play it across our speakers
Your very own party attendant and barista for the duratiuon of your event
Access to our fun-filled list of party add-ons which includes activites, food & beverage options and more!

Is there something else you were looking for? We're always looking for ways to expand our event rental offerings. Reach out to us at events@thelittlevillageplaycafe.com and we'll do our best to accomodate.
What ages are the best for your space?

Our play space is primarily designed to cater to children 5 and under. That said, it really depends on the child. As long as kiddos are following our open play rules they are welcome to use our play space!
How far in advance should I book?

We require all private event rentals to be made at least 14 days in advance. If you're looking to book a last minute party, we'll do our best to squeeze you in. Please email events@thelittlevillageplaycafe.com and we'll see what we can do. 😉
Are we required to set up or clean up?

You get a 30-minute set up
Party questions? send us a note! 👇